Adding/deleting or editing your providers in DentalWriter
By default, your DentalWriter is built for 2 "Primary" providers. You can add as many "Secondary" providers as you want. Primary providers profiles can hold additional items that a secondary provider profile cannot, such as signatures for letters and claims and medical claim billing defaults. Should the need to add additional primary providers other than the default two provided, those can be purchased by contacting our sales team.
Only (1) Provider will and should be marked as Default Primary Provider. The default provider will always be listed when new patient charts are created and/or imported. Note: This can always be changed.
When creating the Default provider, there will be 5 tabs in which information about that default provider that will need to be considered or reviewed, as some or all the information will prepopulate your claim forms, letters and other areas of auto-generated processes.
1. General- Represents selections for Active, Doctor Last Name, First Name, NPI, and even an area to adhere Doctors signature to prepopulate in Claim Forms, and Narrative Reports, covered in another article.
From the Menu options of any DentalWriter select, Setup, Provider, New Provider, General Tab

Setup, Provider, New Provider, General Tab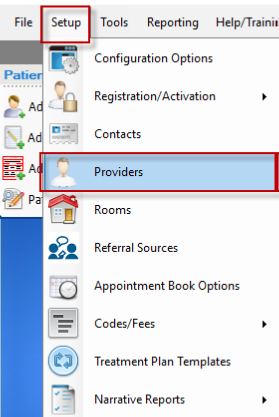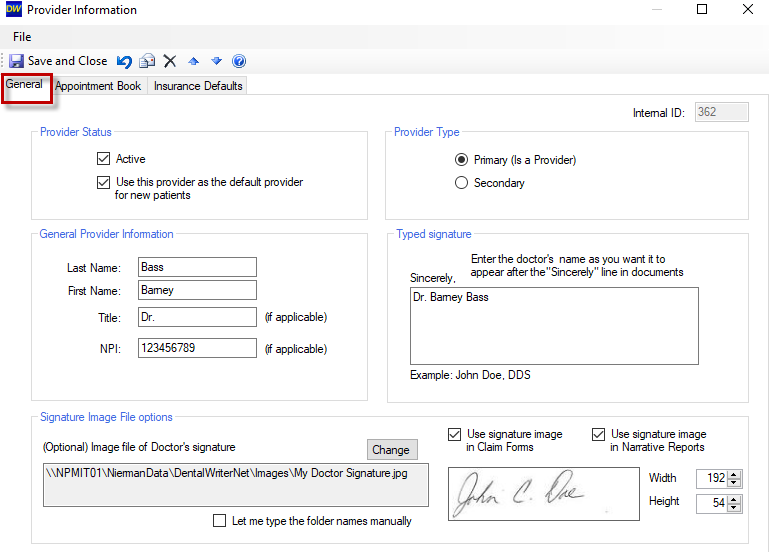 2. Appointment Book- If not using this feature, there is no entry required in this tab. Should this feature be used, define a Provider Code Examples: DDS1, Hygienist, as these can be assigned to the appointment book calendar to include Rooms.
a. Rooms are defined in a different area for setup and very simple. From the menu options select Setup, Rooms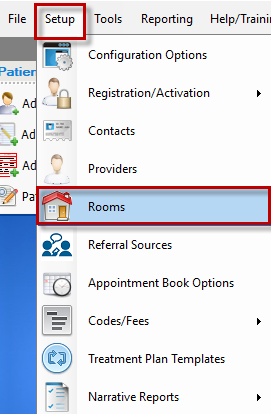 b. Type a room name Example: Rm-1, Op-1 and save.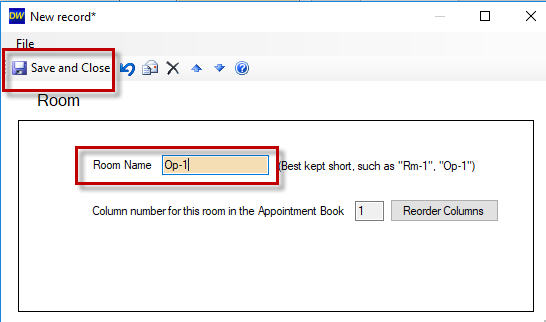 2. (Continued) Once the Room Name has been defined proceed with completion of the Appointment Book tab, time to complete the Default Provider.
From the menu bar of DentalWriter, select Setup then Providers, Appointment Book Tab.
SetupProviderAppointment Book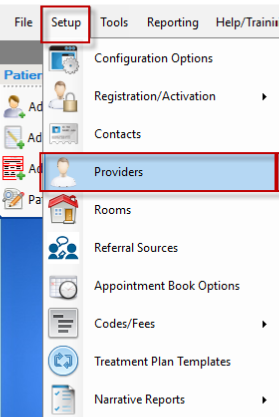 The Default Room can now be selected from within the
Drop-down. Select it, then choose an
Appointment Book Color from button provided. The provider code will be how that provider is
labeled for scheduling & reporting purposes.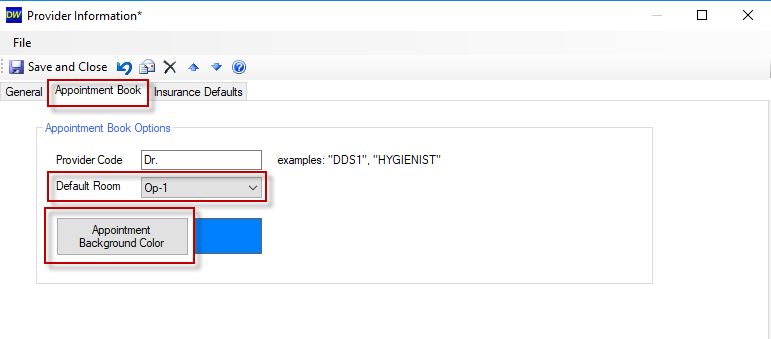 3. Insurance Defaults (Private Insurance)- Each Primary provider setting will contain default values to use when entering data into a new claim and this information will be used when claim is marked as anything other than Medicare. Make sure the tax ID matches the billing provider information. Service Facility Information (field 32 on the claim form) should be the name, address, and type II NPI (if available). The Billing Provider Information (field 33 on the claim form) should be the name, address, and NPI of who the reimbursement checks will be made out. Some providers use their name and personal type I NPI for this, some use an organization name and type II NPI for this.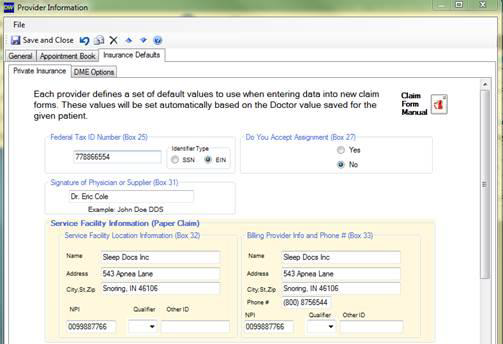 3. (Continued) Insurance Defaults (DME Options)- Entries made here will be used when claim is marked as a Medicare DME claim (for oral appliances for sleep apnea). In addition, you must be enrolled as a Medicare DME supplier to bill Medicare DME for sleep appliances.
The signature box defaults will allow you to have field 12 & 13 on the medical claim marked by default as "signature on file". You can choose to force uppercase letters in all claims, medicare claims only, or none. At the bottom, you can enter the provider's personal NPI if the billing provider is an entity (this will ensure that the billing provider info in field 33 shows the entity information, while field 24j on each line item of the claim will list the personal NPI as the person who rendered the service).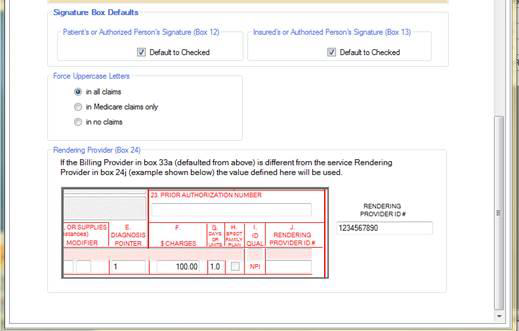 When done, click the "Save & Close" button in the upper left-hand corner. If this is the first provider you have added to DentalWriter or if you changed who the default provider is, be sure to visit the online forms download manager and perform a synchronization.