Steps on how to become a Medicare DME supplier in order to bill medical claims to Medicare for sleep appliances
Summary:
In order for Medicare to reimburse a dental practice for custom made oral appliances for Obstructive Sleep Apnea (OSA) (HCPCS E0486), the dental practice must first enroll as a Medicare DME supplier. To do this, the dental practice must complete the CMS 855s enrollment application and submit to the National Supplier Clearinghouse (NSC) along with any required supporting documentation. Once the application & supporting documents, application fee, proof of surety bond, and fingerprints have been received & accepted, the NSC will schedule an on site visit to the practice. If on site visit is passed, the NSC will issue the practice a PTAN number (Medicare billing number), and the dental practice is then eligible to bill Medicare for custom made oral appliances for OSA. If all information is supplied and correct when the application is submitted, this process typically takes between 3-4 months.
Nierman Practice Management offers a Medicare DME application service to assist you in this process. For more information, visit: https://niermanpm.com/dental-medical-billing-services/dme-application
Details:
Link to the Medicare 855s DME Supplier application: https://www.cms.gov/Medicare/CMS-Forms/CMS-Forms/downloads/cms855s.pdf
Application Fee for 2022: $631
Link to pay application fee: https://pecos.cms.hhs.gov/pecos/feePaymentWelcome.do#headingLv1
Address to send in application when complete:

National Supplier Clearinghouse Customer Service Phone: 866-238-9652
National Supplier Clearinghouse website: http://www.palmettogba.com/nsc
**Please note: when completing this application, you will come across a section labeled accreditation program. As a dental practice supplying custom made oral appliances for OSA, you are exempt from this requirement.
Link to fingerprinting submission information: http://www.cmsfingerprinting.com/
The $50,000 surety bond must be obtained from a federally approved surety company. You can find a list of these companies at: https://www.fiscal.treasury.gov/surety-bonds/list-certified-companies.html
The cost of surety bonds varies depending on the amount of the bond and credit of the applicant, but is typically approximately $250 for a $50,000 bond.
We have provided the contact information for a Medicare approved surety bond agent below that can help you obtain this bond:
Sonja Amanda Floree Harris - Commercial Surety Manager
Direct: 407-478-6839
Cell: 678-717-8745
Fax: 407-786-7766
E-mail: Sonja@floridasuretybonds.com
List of supporting documents to submit with your Medicare DME Supplier application: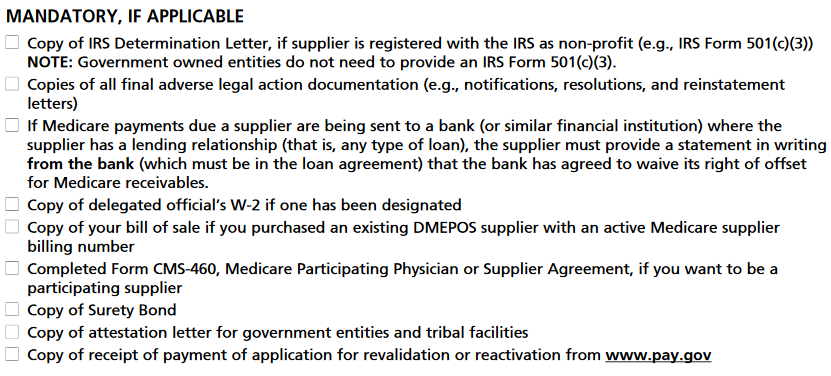 Link to the 588 Electronic Funds Transfer Authorization Agreement: https://www.cms.gov/Medicare/CMS-Forms/CMS-Forms/downloads/cms588.pdf
Link to 460 Participating Agreement (complete & submit only if you wish be a participating DME supplier and accept Medicare's allowed amount as payment in full for E0486): https://www.cms.gov/Medicare/CMS-Forms/CMS-Forms/downloads/cms460.pdf