Highlights of the DentalWriter Summer 2018 update
Top 7 DentalWriter Update Highlights for Summer 2018
#1 Introducing the New Start Screen
Take short cuts to the information you want and the activities you need to do. The Nierman Newsfeed will keep you up-to-date date on upcoming events, upcoming software updates, coding updates, coverage policy changes, and industry news!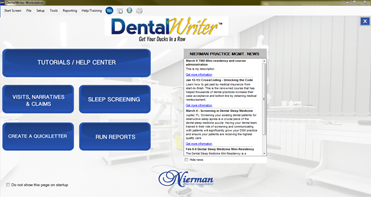 #2 New Quick Sleep Screening Forms
Need to have a patient complete an Epworth Sleep Scale or STOP-BANG questionnaire chair side before you have a chart started? No problem, check out our new "Sleep Screening" options from the new start screen. Once complete, you can print the results and/or add a chart for the patient.

#3 Patient Age Now Displayed by Birthday Field
It's the little things in life…..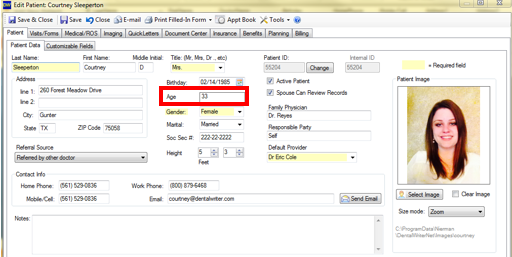 #4 Patient Birthday Now Displayed on Main Patient List
You asked, we listened……

#5 New Ledger Report Available: Accounts with Credit Balances
You now have the ability to run a report showing patient accounts that have credit balances (aka that you owe money back to).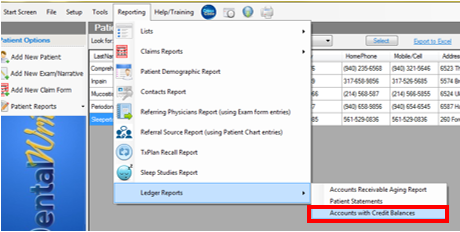 #6 Defaults now available for Field 24j "other ID qualifier" and "Other ID"
Why does this matter? Well, some medical insurers are starting to require that a taxonomy code or unique identifier be added to the red shaded portion of field 24j on each line item. So, if you run into this – you have a default for that! This is found in your provider claim form defaults in the "Providers" options from the "Setup" menu.

#7 Make E-mail Templates to Send to Patients
Make templates to use to send to your patient's e-mail address right from their chart! Perfect for use for appointment reminders, online questionnaire links, thank you notes, etc.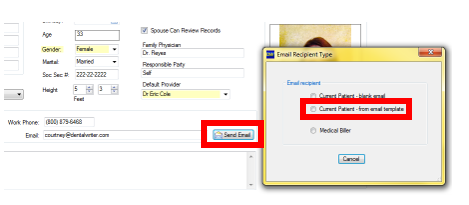 Other notable mentions:
Merge Field Options for the Header & Footer of Narrative Reports
We've had several requests to be able to have the patient's name, date of birth, etc on each page of the narrative report. You can now easily do this by adding patient information merge fields to the header and/or footer of your narrative report template by simply typing the following merge fields into the header and/or footer of your custom narrative report template: <firstname> <lastname> <title> <address1> <citystatezip> <gender> <dob> <doctorname>
Insurance Provider added to the List of Merge Field Options for QuickLetter Templates
You now have the option to use the "Insurance Provider", a.k.a. the medical insurer's name, as a merge field in your QuickLetter templates
New Simplified Sleep Assessment & Impressions/Bite Registration Sections Available
You can use our new simplified sleep assessment & impressions/bite registrations sections, or you can stick with the original version.
Add Copies of Medical Claims to the Document Center Directly from the Claim Form
There is a new option when you print a claim to "Save as a PDF" that saves a copy of the claim directly to your patient's document center.
CPT Codes can be Deactivated
You now have the ability to deactivate CPT codes in your default CPT list.
Behind the scenes…..
Various coding updates (i.e. 97762 deactivated & 97763 added, moderate sedation codes 99143-99150 deactivated & moderate sedation codes 99151-99157 added, anesthesia modifiers added, frenectomy & mucositis codes added)
Various performance enhancements (memory retention improvements,
Ledger reporting and UI enhancements (auto save & refresh re added, multiple adjustments improvements, A/R report improvements,
Claim form enhancements (6 or 8 character date format, services by charge amount order, updated claim form manual link,
Updated narrative report language for the "T90" field in the sleep study forms