How to hide or show entire sections of a questionnaire or exam form in the DentalWriter software while customizing
You can hide or show sections of the patient questionnaire forms and exam forms of any visit type, as well as a few of the "free standing" forms such as medical history, review of systems, and imaging forms.
To hide or show a section in a visit:
Start by opening any patient chart in DentalWriter and choose the "Visits/Forms" tab and either open a new visit, or opening a existing visit (it is recommended to use a fake/test patient and a new visit whenever customizing in DentalWriter):
Once the visit (or any of the other forms mentioned above) is open, choose the "Tools" menu, then "Customize", then "Show/Hide Form Sections":In the window that appears, you will see a list of all available form sections for this visit type. Sections are listed top to bottom in the same order that they appear when working left to right through the visit starting with the patient questionnaire, then moving on to the examination form (keep in mind, the available sections will be different depending on the type of visit. For example, you will not find a "Sleep Study" section in the TMD forms, and you will not find a "Pain Pattern" section in the sleep forms). Any section showing check marked in black is currently showing in the visit, and any section showing unchecked in red is currently hidden. Make any changes you wish to the check boxes, then click "Save":You will receive a prompt alerting you that these changes will be applied to this visit and any visit of this type created moving forward, but will not be applied to previously created visits. Also, if you chose to hide a section that contained information, that text will still appear in any narrative reports generated for that visit:
Next, you will receive a prompt alerting you the form must be closed for the changes to take effect:
Once the form has closed, you can re-open it to see your changes. Keep in mind, if you access a visit that was created prior to you making these changes, it will still look like it did the day you created it. These changes apply to the current visit/form, and any new visits/forms of that type that are created moving forward.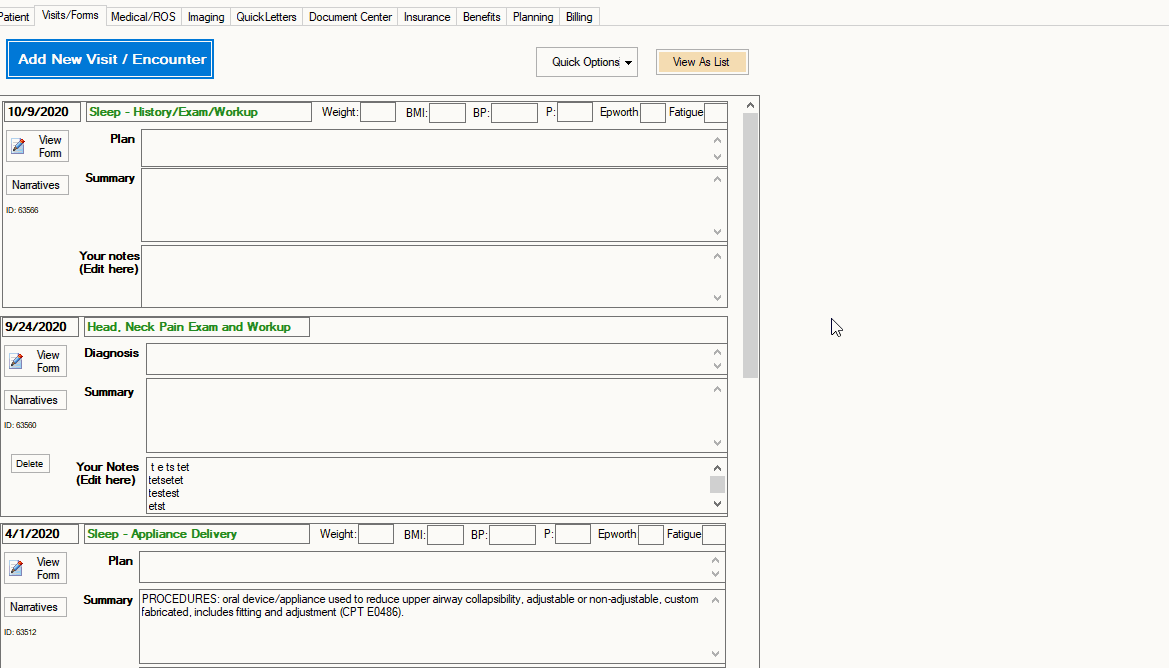 Note: Don't forget to "sync" once you're done customizing! (found in the download manager (globe icon) on the main screen of DentalWriter, in the "synchonrize" tab)