What medical insurers require use of a PDAC approved appliance for sleep appliances (E0486) for successful reimbursement
PDAC Approval for Custom Made Sleep Appliances – Now for More than Just Medicare
Did you know there are currently a total of 58 custom made oral appliances that are PDAC cleared (a.k.a. Medicare approved) for E0486? Of course, many of these are similar designs from different manufacturers/labs, but it is important to be familiar with which appliances are approved!
There were 3 additions to the list in 2020, no new additions yet for 2021!

| | | | | |
| --- | --- | --- | --- | --- |
| ProductName | Manufacturer/Distributor | ModelNumber | HCPCS Code | Effective Begin Date |
| RESPIRE PINK EF AT | RESPIRE MEDICAL | SPAT030US | E0486 | 11/4/2020 |
| HERBST ADVANCE ELITE | SOMNOMED INC | | E0486 | 4/14/2020 |
| RESPIRE PINK AT | RESPIRE MEDICAL | SPAT000US | E0486 | 4/14/2020 |
It is currently fairly common knowledge in the Dental Sleep Medicine (DSM) field that in order to be eligible for reimbursement from Medicare, practices providing Medicare beneficiaries with custom made oral appliances to treat Obstructive Sleep Apnea (OSA) are required to use an oral appliance that has been approved by the Pricing, Data Analysis and Coding (PDAC) contractor (currently Palmetto GBA) for Healthcare Common Procedure Coding System (HCPCS) code E0486. E0486 is the HCPCS code used to bill medical carriers for custom made oral appliances treating OSA and snoring, and is considered Durable Medical Equipment (DME).
What many dental practices may not realize is the rapidly growing trend that private/commercial medical insurers are beginning to require PDAC approval for E0486 as well.
To view the current list of custom made oral appliances that are PDAC approved for HCPCS Code E0486:
Type "E0486" into the field labeled "HCPCS Code" and click the search button
In the search results, any appliance with an "effective start date", and no "effective end date" is currently approved.
*Tip: click the top of the "effective start/end" date columns to sort by that column
Why is this so important?
If a medical insurer requires the custom made oral appliance to meet the PDAC criteria for E0486, it is important that DSM practices document the type of oral appliance used as well as verify that it meets PDAC criteria. Without this documentation and verification, a pre-authorization or claim could be denied. Another consideration is in the event of an audit - the practice may owe money back to the insurer due to insufficient documentation, or due to the patient not meeting their coverage criteria (because the oral appliance itself doesn't meet their criteria).
Currently, the criteria a custom made oral appliance must meet to be PDAC approved for E0486 is as follows:
Have a fixed mechanical hinge at the sides, front, or palate
Have a mechanism that allows the mandible to be advanced in increments of one millimeter or less
Be able to protrude the mandible beyond the front teeth at maximum protrusion
Be adjustable by the beneficiary in increments of one millimeter or less
Retain the adjustment setting when removed
Maintain mouth position during sleep so as to prevent dislodging the device
Below are several examples of medical insurer's policies/guidelines that include this language in their coverage criteria for custom made oral appliances for OSA:
1. AIM Specialty Health includes this criteria in their clinical appropriateness guidelines titled "Sleep Disorder Management Diagnostic & Treatment Guidelines", shown in screenshot below:

Link to full guidelines: https://aimspecialtyhealth.com/guidelines/PDFs/2019/Jun29/AIMSleepDisorderManagement_Guidelines.pdf


2. UHC Includes in medical policy titled "DURABLE MEDICAL EQUIPMENT, ORTHOTICS, OSTOMY SUPPLIES, MEDICAL SUPPLIES AND REPAIRS/REPLACEMENTS", shown in screenshot below:

Link to full policy: https://www.uhcprovider.com/content/dam/provider/docs/public/policies/comm-medical-drug/dme-equipment-orthotics-ostomy-medical-supplies-repairs-replacements.pdf
3. Paramount Healthcare includes this criteria in their medical policy titled "Custom Oral Appliances for Obstructive Sleep Apnea", shown in screenshot below:

Link to full policy: https://www.paramounthealthcare.com/assets/documents/MedicalPolicy/PG0131_Custom_Oral_Appliance_for_OSA.pdf
4. Gateway Health Plan includes this criteria in their medical policy titled "Custom-Made Oral Appliances in the Treatment of Obstructive Sleep Apnea (OSA)", shown in screenshot below:

Link to full policy: https://www.gatewayhealthplan.com/Portals/0/med_drug_policies/CustomMadeOralAppliancesInTreatmentOfOSA.pdf
5. Prime West Health includes this criteria in their medical policy titled "Dental Providers Billing for Sleep Apnea Appliance", shown in screenshot below: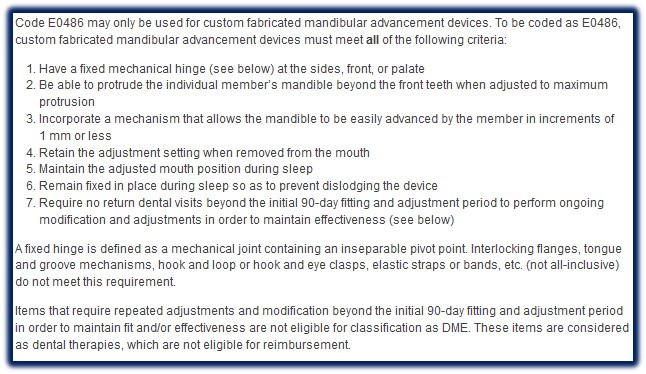 Link to full policy: https://www.primewest.org/sleep-apnea-appliance
6. Independence Blue Cross includes this criteria in their medical policy titled "Treatment of Obstructive Sleep Apnea (OSA) and Primary Snoring", shown in screenshot below:

Link to full policy: http://medpolicy.ibx.com/policies/mpi.nsf/f12d23cb982d59b485257bad00552d87/85256aa800623d7a8525837100587233!OpenDocument